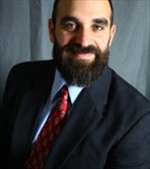 131 Burncoat Street, Worcester, 01605
A Historic Worcester home sited on a magnificent corner lot. C.1890, built for Sarah Bigelow Davis & Dr. Charles H. Davis. The land was purchased from prominent Worcester land-owner Edwin P. Curtis who descended from Worcester's first settler Ephraim Curtis. Listed with Joseph Abramoff of Real Living Barbera Associates in Worcester, this home features 3,237 sq.ft of living area without the expansive 3rd floor, 5 fireplaces and more fine millwork than you can shake a stick at.
I caught up with Joe get his thoughts on this listing:
"I was astounded to enter this house and see so many of  the wonderful original finishes.  It's a historic mansion hidden in plain sight on Burncoat St that many of us have probably driven by our whole lives and never really stopped to look at it.  Originally built in 1890 by a descendent of Worcester's first settler, it features 5 fireplaces throughout the home and 6 bedrooms (2 were the servants' quarters on the third floor). It has a great fenced in yard that makes you feel like you're in the country.  Even the basement has an old metal lined rudimentary washing machine that had a space underneath for a fire to heat the water so they could manually wash clothing in it.  There is also an original part of basement with wood flooring and wainscoting so the undergarments of the lady of the house could be hung to dry and neighbors wouldn't see her bloomers!"
If anyone has interest in unique older houses, they should make sure they come to the Open House this Sunday 9/23 from 12-2pm.